From the traditional cave paintings dating back to 30,000 years ago in the Chauvet-Pont-d'Arc Cave in France to David Rivera's Man at the Crossroads painted in New York City. Murals have been part of society for many years. 
Undoubtedly, murals have always been about telling a story or making people feel something.  
Fast forward to today, I know we've all driven past a long line full of eager influencers trying to get a picture in front of the colorful wings plastered against a large wall.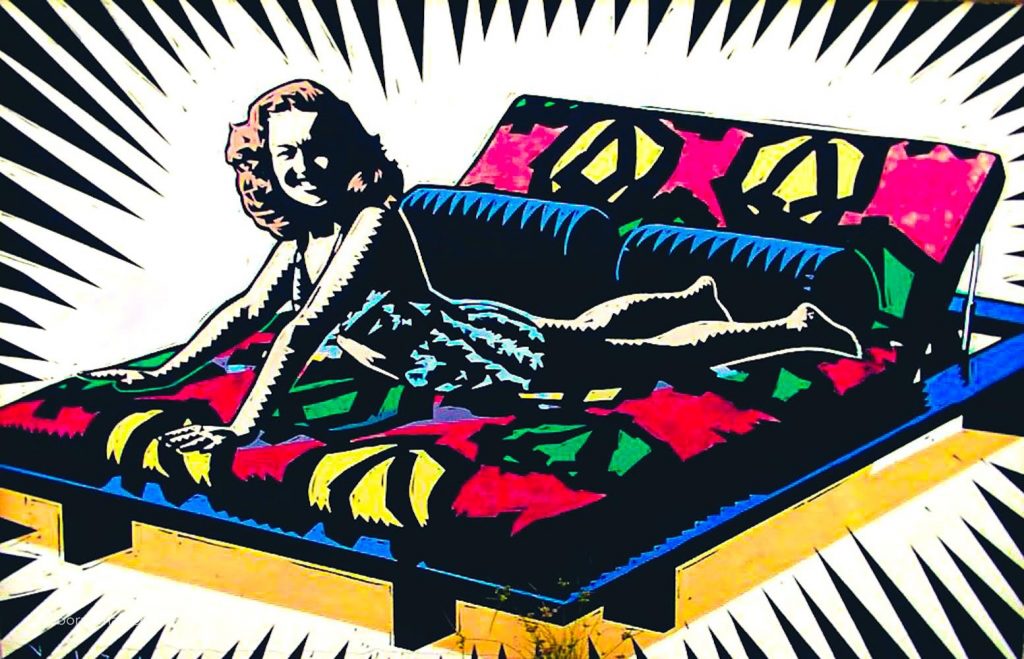 Mural by: Kevin Bapp Mural Dunlavy and Westheimer
Or scrolling down Instagram, seeing the same mural over and over on my feed; 1. makes me click on the business or location tagged 2. check out their Instagram 3. share it with my best friend 4. and add it to our "places to try" list.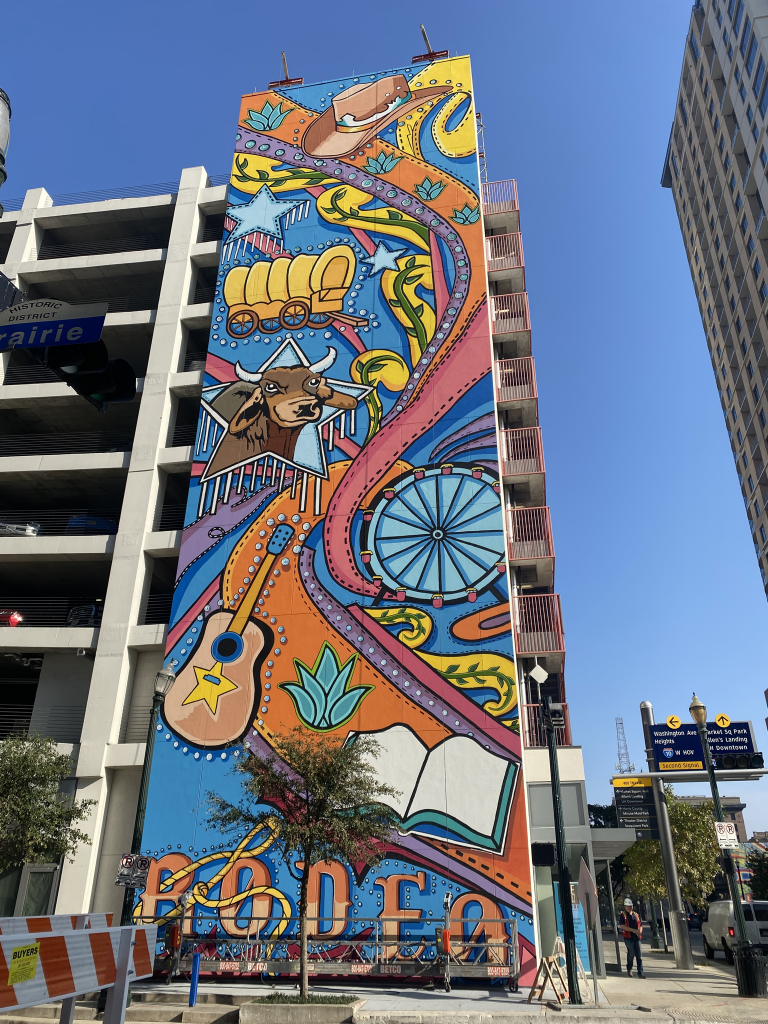 WHEN
DID
THIS
CRAZE
BEGIN?
Mural by: Gonzo 247 assisted by Sylvia Blanco 
I know that business owners thought it through because I remember going to a restaurant with insane busy lines. Only to find out some people waiting in line weren't even there to eat; they just wanted a picture in front of their murals. The buzz of the people excited me to go there because it was so busy that I wanted to be there too. Then the business down the street sees all the commotion, and nevertheless, a couple of days later, you see an artist, beginning to paint on their walls. And so, the domino effect begins. 
Indeed murals can bring in new foot traffic to your business and out-of-town customers. It helps project your brand, drawing people in, from outside the building, without them even having to step into your facility. Interesting mural art attracts social media users to tag and post photos of your wall and invites all their followers to want to do the same. I'm even guilty of this.
So we know this helps retail stores and restaurants, but what are the benefits of mural art in work environments? Studies show that art in the workplace inspires culture and creativity. Dr. Craig Knight, a researcher from the University of Exeter has been studying working environments for over 12 years. His findings include that those workers in an enriched environment were 15% more productive than those in a lean environment. And that productivity doubled when the art and colors around them empowered people. .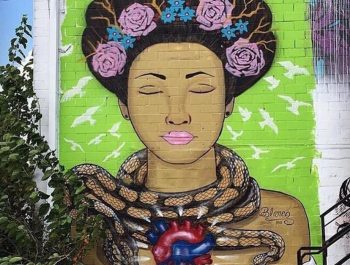 Nowadays, cities and districts dedicate streets and neighboorhoods long all full of murals. There are even festivals devoted to muralists and mural painting.

When clients come to her and have no idea what they want, it's up to her to interpret their ideas. If they have no idea what they want, and she sits down with them to get to know who they are, what they like, and what they want,and just like that a theme is born. Or sometimes on several occasions, they give her complete freedom to paint whatever she wants.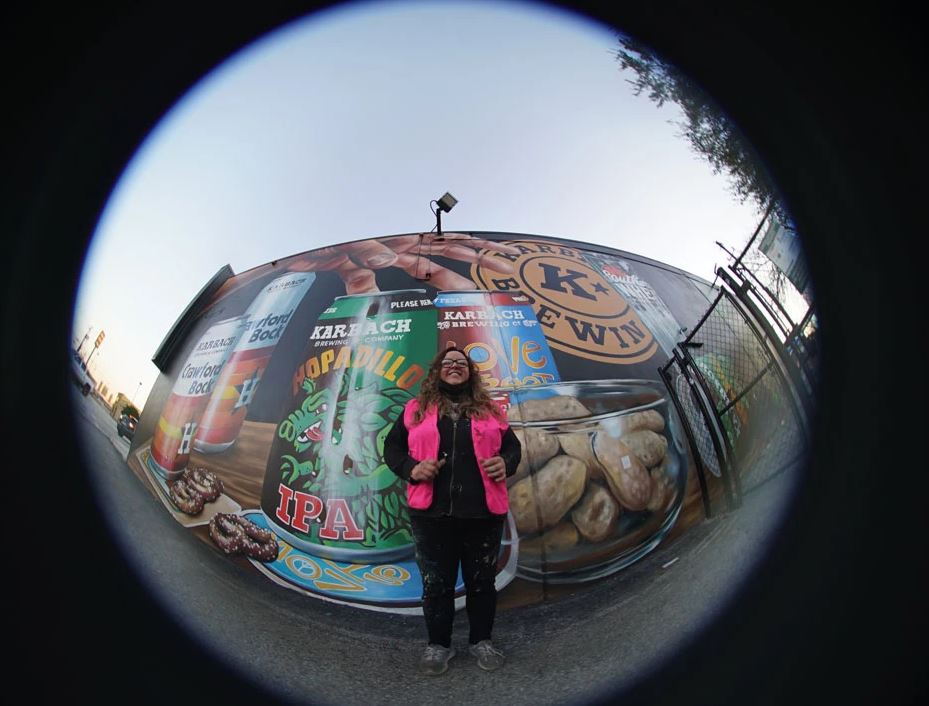 Mural By: Anat Ronen assisted by Sylvia Blanco
We got to sit down with Sylvia Blanco of Blanco Art, a Houston local, who saw the rise of murals right before her eyes. Sylvia started painting in 2010 when she said there were maybe handful murals in her city. She was asked to paint her first mural on a street wall 4 years after she began her painting career. She has even gotten to do 2 paintings in the remarkable Graffiti Park and participated in some of the mural festivals.
Blanco has even gone into residential murals. There has been a boom in recent times because people want diversity, uniqueness, and something in their home that no one else has. People have even been requesting to get a mural painting of their pets. But there is no doubt that mural art has been thriving. Blanco even said she never really had downtime during covid. She consistently had a new mural to work on.
Murals make our cities and streets more lively. They make people more aware and productive, and the well-being of the employees is enhanced if they work in a radiant, creative workspace. They make people happier while also adding value and interest to your space
So next time you're working on a design, maybe skip the same old cookie-cutter wallpaper that everyone can buy off a website or forget the plainly painted wall and opt-out for a custom-painted mural.