How To Make An Office Design Speak To Clients, Employees, and Beyond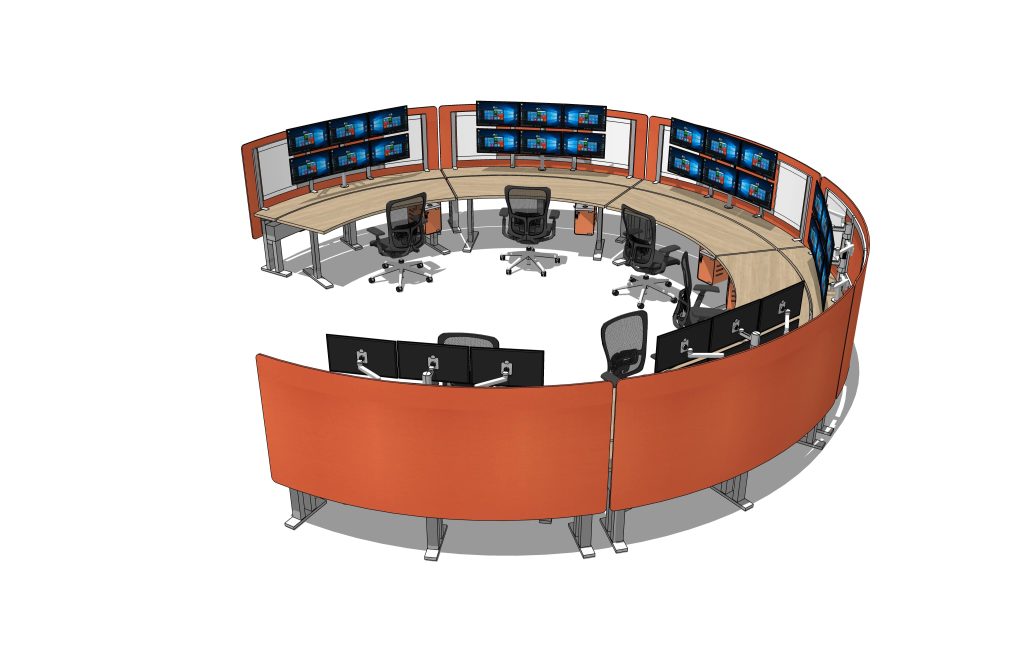 At DTANK+, we're not just creating furniture. We are designing experiences that speak to the distinct style of every client. When it comes to commercial design for corporate offices, we help our clients see beyond the stock standard options you can find on a shelf somewhere – and unlock the infinite possibilities of custom designs and solutions.
Whether we are working with the architect on the project, the interior designer, or directly with the business owner, we make it our mission to deliver the highest quality product available that meets every functional and stylistic objective.
Keep reading for insight into how we help achieve the highest standard of office design, while staying within the necessary budget and lead time of every project:
Prioritization
Many times when it comes to commercial design, furniture gets unfairly shoved to the bottom of the list of priorities. Companies spend all of their time and attention (and budget!) thinking through the architecture of the building, the layout and spatial planning of the office, and the materials and finishes being used throughout. We often see stunning custom murals painted in lobbies, unique features to encourage productive flow of traffic, and innovative exterior architecture… only to find out that they'll be furnishing the office spaces with standard desks off the shelf from an overused vendor!
At DTANK+, our team can help manage your priorities so every area of a corporate space can shine. Our collaborative approach and discerning engineering skills allow our team to say "yes" to creative ideas, without sacrificing quality. With the right partner, your office can have the custom mural that new clients will love and innovative desks that encourage your employees' most productive work. It all comes down to prioritization and forward-thinking decision making.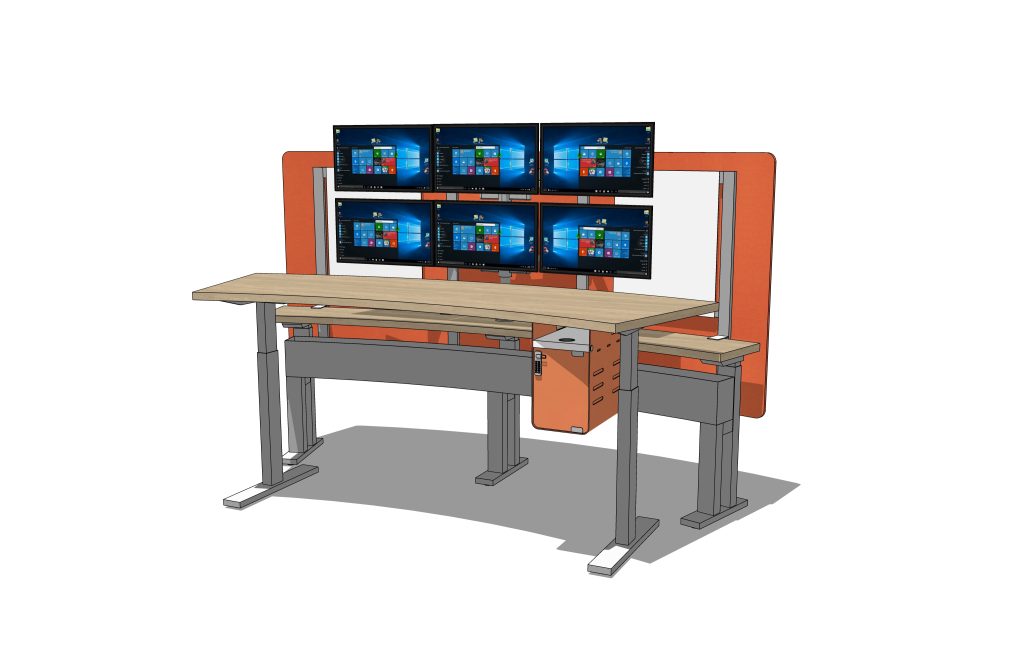 Brand-Forward Design
The highest quality of commercial design will create an atmosphere and tell a story. The space will feel like an authentic expression of the brand identity. Every element matters, even the fragrance that you smell when you walk into a space will affect your experience while you're there!
Brand-forward design will make people think "I want to work here" when they walk in the door. It will make an impression that keeps your customers wanting to come back! And we don't take that lightly.
If you are looking to add some brand-forward design to your corporate space, the first place to start is your reception desk! This is the first thing people see when they enter your office, and it sets the tone for their entire visit. A great reception desk will feature prominent branding (such as your logo or business name), a clear point of view that speaks to your style, and a spacious, approachable flow of traffic.
Click here to see some of our favorite reception spaces that we've designed in collaboration with clients.
The 80/20 Rule
When it comes to designing and manufacturing custom furniture, 80% of all decisions are going to be made around function and quality. The other 20% of decisions should be made for Wow Factor.
When you select stock standard furniture from a store, 100% of your decisions are being made around function and quality:
Will this fit in the space?
Does it have all the features I need?
Will it suit the aesthetic of the space well enough?
There is no true Wow Factor in that kind of shopping. So let's stop shopping and start creating!
When you design a custom piece with DTANK+, the dimensions, features, and aesthetics are all guaranteed to be on point. That's all included in that first 80% of the process. The last 20% is where the magic happens:
How can we incorporate this shape from your logo into the base of this desk?
What if we use this unique material to tie in your brand colors to the conference table?
Wouldn't your employees love it if the break room had this one-of-a-kind lounge chair for them to relax in, complete with charging capabilities for devices?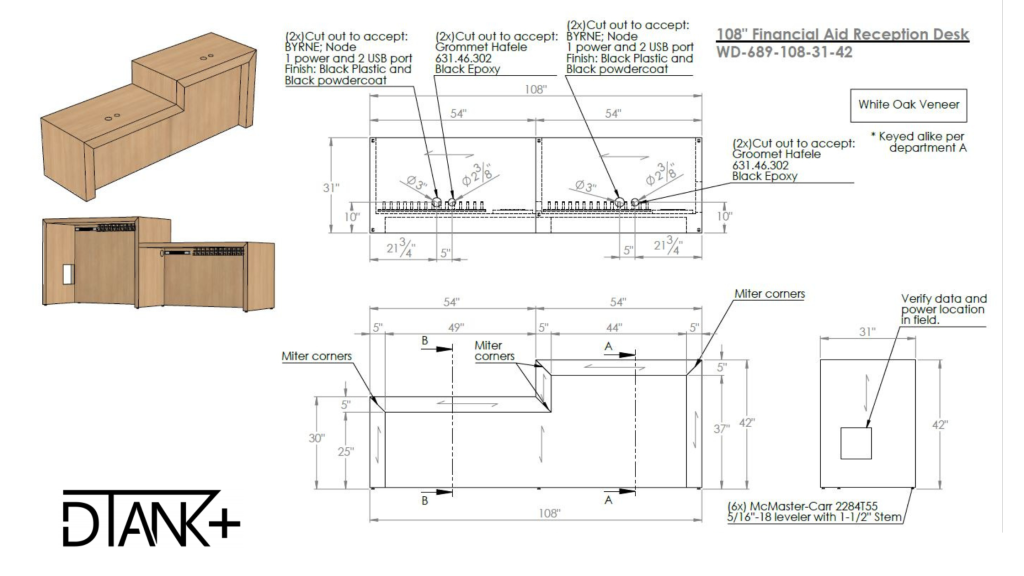 Value Engineering
Maybe you're starting to think, "Wow factor sounds expensive…?" But what if we told you that custom designs don't necessarily need to cost more than the standard options that are available out there on the market?
At DTANK+, we are experts at engineering products with your budget in mind. We pride ourselves in smart designing, not over designing. Especially when we are brought in from the very start of a project, we can help ask the critical questions that ensure each objective is being met in a way that is:
Physically feasible – Engineered to work and last
Financially feasible – Engineered with materials that will keep you in budget
And just plain fun – Designed one-of-a-kind, just for you!
Whether you are in the middle of an existing commercial project or just about to embark on a new creative challenge, contact DTANK+ to see how we can help you go beyond stock standard and achieve the absolute highest standard in your design.
We provide free concepts and renderings so that you can present your wildest ideas and most innovative visions. The sky's the limit!
Keep an eye on our blog next month for a behind-the-scenes look at the custom curved workstation featured above.